Τα τελευταία χρόνια, χάρις στο κίνημα indie παιχνιδιών που έχει επικρατήσει στο Steam, έχουμε δει μια αύξηση στους τίτλους παιχνιδιών tycoon. Ένα προσφιλές θέμα πλέον είναι η δημιουργία studio παραγωγής βιντεοπαιχνιδιών. Έχουμε δει πολλούς τίτλους του συγκεκριμένου θέματος, όπως Game Dev Tycoon κλπ. Ένας νέος τίτλος είναι το Game Corp DX, το οποίο παρουσιάζω παρακάτω στο αγγλικό review που έγραψα στη σελίδα του παιχνιδιού στο Steam.
I saw it from a friend and was intrigued by the fact that it allowed you to do multiple projects at the same time. The price was really low so I bought it. While playing it (no more than half an hour) I noticed the similarities with my favourite management game to date, The Movies. Especially the awards were a nice reference to that game.

I only did up to a small scale game and have some thoughts about the gameplay (perhaps they are better later on, but I do not know it yet).

I feel that the multiple project (especially micro) is a bit weird. I understand that we start small and go big, and the system micro = 2 people etc is intriguing, but I believe I had a slightly better time while playing Game Dev Tycoon, only for the fact that I never thought I was a mobile game dev, as I am thinking while micro-projecting in this game. Perhaps it is only the fact that GDT is set on the '80s? Well, not really a con this one, more like something to get off my chest.

I liked the micromanagement in the fact that there are 4 different game options (sound, story, code, art) and the programs you use for each.

I also liked the fact that you have competitors. You are not alone in there!

What I disliked and perhaps will never be solved due to being a major aspect to the game, is the quest for money system. I managed to fullfill an objective and got instant cash, while in GDT I had to pass the phase where I prayed for my project to earn back at least my investment money. It makes this game to feel unnaturally easy.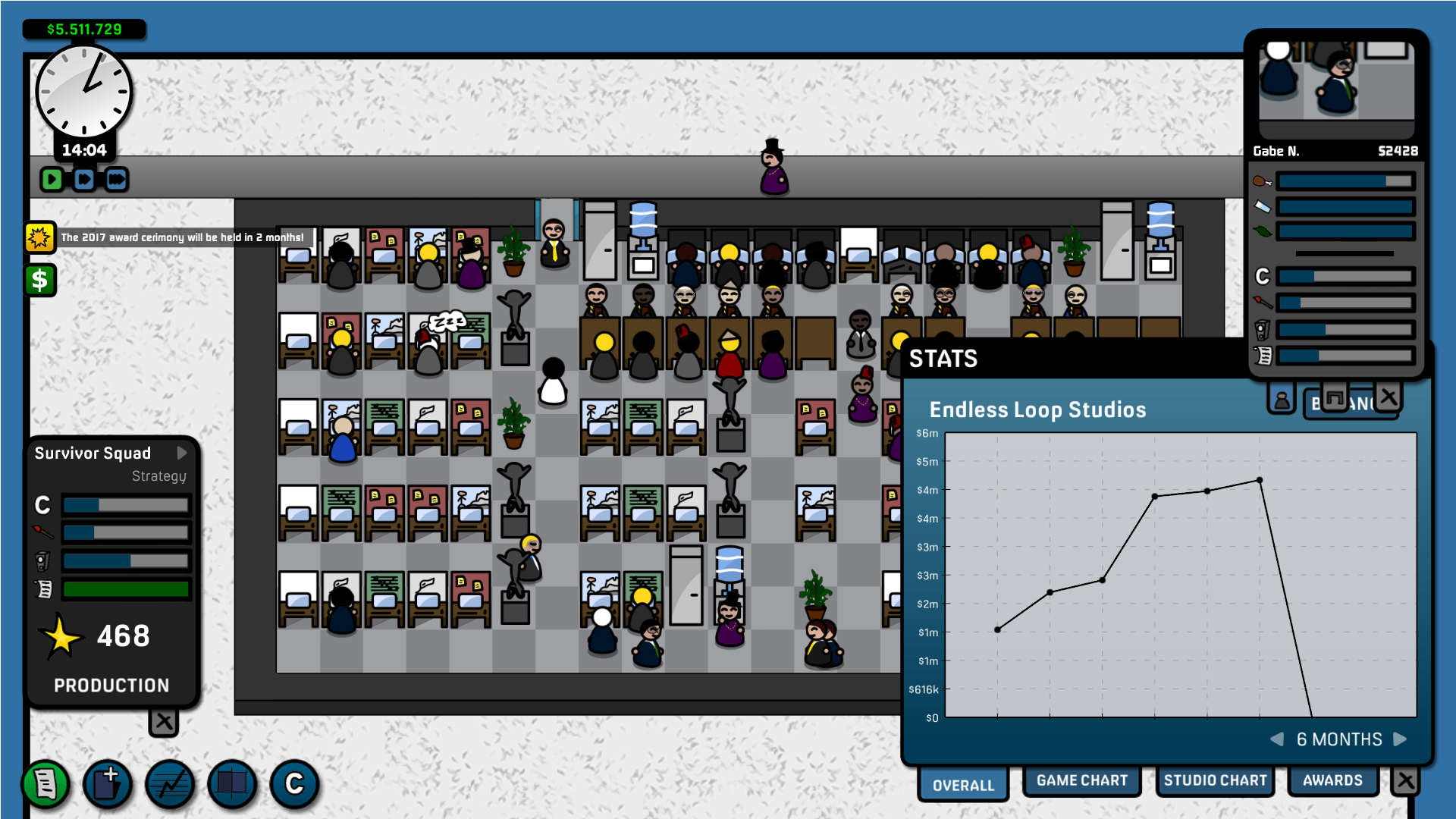 One thing that I disliked is the fact that I didn't manage to find a key where I would say that a new project is a sequel to a previous one. This is a major point for me, as I love to have sequels upon sequels of games (and IRL I say I hate Ubisoft? Damn, I am Ubisoft.)

Another thing I learned and thought it was missing was MMOs and expansions. It was my dream while playing GDT to have a team managing an ever growing MMO, while the rest did more diverse projects. And expansions to existing games plus the MMO. And I find this game which has multiple project possibilities, without MMO and expansion capabilities.

Another thing I think should be checked is in placement of items in the office. I wanted to have the training box towards the wall, facing left, but I could not find a rotation button. It would be good to have one.

Also, I would like to not be able to continue with a random name and have an extra screen about it. Had to scrap a couple of projects because I forgot to name them as I wished.

One more point is the fact that there is no actual market. As I learned the games only sell for a year and then die out, while there are no other factors, like "people want RPGs" or "they crave for Adventures", like in GDT or The Movies (in the latter certain events happened and changed the mood of the audience). That takes away from the realism of the game and the whole "gamble" aspect where a perfect developed game not always sell accordingly.

After playing half an hour more, I noticed that, contrary to my earlier belief, when a guy finishes his work on a project, he sits and waits. He cannot train nor join a new project. I believe this is another thing that should change. If a sound designer finishes his work early on a project low on sound, why shouldn't he be able to join immediately a new project based on sound?

All in all, I want to really, really say yes to this game. But the things I saw and learned that it lacked, make me say no. I believe in the developer and really want to make these changes. If he does make at least some of them, it is an instant yes for me. I cannot talk about the endgame since I've not played it. Once again, I say that this is a half-hour gameplay review. If any update happens or discover a feature I've missed, I'll edit the review accordingly.


+ Extremely low price
+ Multiple simultaneous projects
+ Competitors
+ Has micromanagement...

-...though not deep as far as I could tell
- Lack of "sequel" option
- Lack of MMOs and expansions
- Lack of rotation in build mode
- Should have an accept screen to remind you whether you have customly named a project or not
- The objectives' rewards make the game seem a bit easier than it should be
- Games always sell for a year and no external factors seem to challenge the success
- Finished designers cannot join new projects or train until the whole project is finished
Αξίζει να σημειωθεί πως το παιχνίδι βρίσκεται σε early access και ο developer ασχολείται ενεργά τόσο στα φόρουμς του παιχνιδιού όσο και στο steam, ώστε να κάνει το παιχνίδι όσο καλύτερο γίνεται.
Το παιχνίδι μπορείτε να το αγοράσετε με λιγότερο από τρία ευρώ εδώ:
http://store.steampowered.com/app/399670